"Home Alone" is the second in my 2022 series of articles based on my real life experiences, professional insights, personal views and fun stories. My hope is that in them you find joy and inspiration.
HOME ALONE
by Joseph Tom Riach
   Do you ever feel 'home alone', as in being lonely? Do you know what is loneliness? I ask because many people have a hard time differentiating between being physically alone and being mentally alone. To them both are one and the same thing. Their physically alone equals mentally alone equals loneliness, restlessness, inert distress.
  Those who relate to that definition of loneliness tend to fix it, by going out, being around people and charging up their metaphorical batteries through social contact. This is fine to a point … yet there's a difficulty with it too. Because, where their unease stems from a deeper emptiness of the soul, such banal interaction can simply make matters worse.
  Ongoing superficial physical company without a lot of actual emotional, mental, inner or somehow closer contact leaves a pretty bad seed in your well-being - even if that company is only sporadic. You don't feel secure, safe or understood through it. It takes its toll on your spiritual character. In that case, being alone might well be the lesser evil. A good thing in fact.
  So first understand that being alone isn't necessarily bad. Far from it. Recognise the good which solitude can do to create calm within yourself. You may not need a lot of social contact anyway - and certainly not of the superficial, meaningless kind. The truth is that you can do fine on your own. People most relaxed in their own personalities and life in general will often tell you how much they enjoy their own company … most of the time. The rest of the time they seek out opportunities and relationships with which to satisfy their more profound emotional and intellectual needs. You can do likewise.
  When thus satisfied you become self aware, content and relaxed. Your balanced psyche feels nourished at all levels. You sit at ease with both solitude and social company. You'll tend to shun the superficial, seek out meaningful relationships and embrace life's simple pleasures. You'll be a better person for it. You need never feel 'home alone' again.
 I am Tom Riach. I live and write in the sunny south of Portugal. 
My latest top-seller is 'The Road To Joyful Living'. Claim your special copy by clicking on the image below.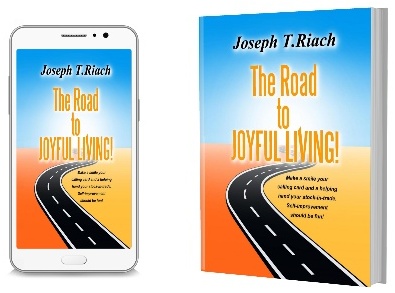 HOME ALONE  is an original copyright Tom Riach feature.
I hope you enjoyed this short article and found it to be of value.
To learn more please visit me on my Author Page.
See you there! Regards, Tom.

© Copyright Joseph T.Riach 1998-present. All rights reserved.