PACK IT IN or PACK THEM IN?
by Joseph Tom Riach
is the 9th of twelve articles for light holiday reading in my 2020 series of  Tom's Summer Shorts. The tales are a blend of my real life experiences, professional insights, personal views and fun stories. My hope is that in them you find joy and inspiration.
   Sikandar was, by some way, the oldest trainee at the accountancy college where his Pakistani family insisted that he study. He had little enthusiasm for the profession chosen for him, so studied little and became less a budding number cruncher and more a serial failure. While generations of bright, young students came, crammed, sat their exams, qualified and moved on to professional employment, Sikandar lazed disinterestedly on, failed his resits again and languished at college for yet another year. So long had he been repeating his seemingly endless cycle of failure that professors and students alike constantly asked, "Why don't you just pack it in?"
  Had he done so, then the college would have lost not only the weary, weed-puffer, lolling half-asleep in class by day but also … the guy who threw the hottest weekend parties on campus! For what Sikandar lacked in enthusiasm for his purported profession he more than made up for in his passion for riotous living and cooking the meanest curries in town!
  Each weekend his tiny, city centre apartment became home to his legendary beer 'n curry fests. What seemed like the town's entire student population descended there, cavorting to an endless flow of iced beer and heaped bowls of steaming vindaloo. In any other block the neighbours would have raised hell at the blaring sitar and the heavy stench of curry, cannabis and joss sticks. But all the neighbours were at Sikandar's party too! On Saturday nights no-one suggested he should 'pack it in'. Instead he was urged to, "Pack them in!"
  Sikandar never did pass his accountancy finals. The college authorities eventually resolved that a mid-aged, bohemian in their midst was not conducive to the general repute of the college. So they 'let him go' ... or … "Packed him in," as he joked with friends.
  He did find work as a 'junior' assistant in an uptown accountancy practice but was never entrusted with any meaningful responsibility. He spent his days exiled in a basement dungeon sifting through clients' cash receipts. When the firm's partners decided to sell off the basement, they were surprised when Sikandar bought it. In true Pakistani tradition his family lent him the money. And the accountants were distraught when he applied for, and despite their objections, was awarded a restaurant licence!
  Sikandar wasted no time in setting up his eatery and recreating the ambience of his student-days, Saturday night curry fests. Diners loved it. Soon his restaurant was known as the 'hottest' spot in town. His personal place of joy and fulfillment was the kitchen. He cooked his heart out and once again served the meanest curry in town. Customers came from near and far to revel in the heady party atmosphere of his curry and beer extravaganzas; all consumed to the hypnotic and very loud beat of the sitar.
  The accountants above, driven to distraction by the din when working nights and assailed by the rich curry aromas all day, eventually moved out. Sikandar purchased those floors of the building and converted them to restaurant too. When the renovations completed, he reopened as "Pack It In's Pack Them In Pakistani Food Joint"! The name created much hilarity when its origins were explained.
  And when diners congratulated him on the food, the vibrance of his restaurant and inquired as to his inspiration, he would habitually reply, "Did you permit someone other than yourself to choose food which you don't care for as your meal tonight? ... or did you yourself select a dish which you really like?" Then continued, "So be it in life. Don't do as others insist, follow your passion and do what you love." Then he would add with a sly grin, "And when you do that I can absolutely assure you that no-one, but no-one, will ever tell you to pack it in!"
 I am Tom Riach. I live and write in the sunny south of Portugal. 
My latest novel is 'Too Early For A Glass Of Wine?' Claim your copy by clicking on the image below.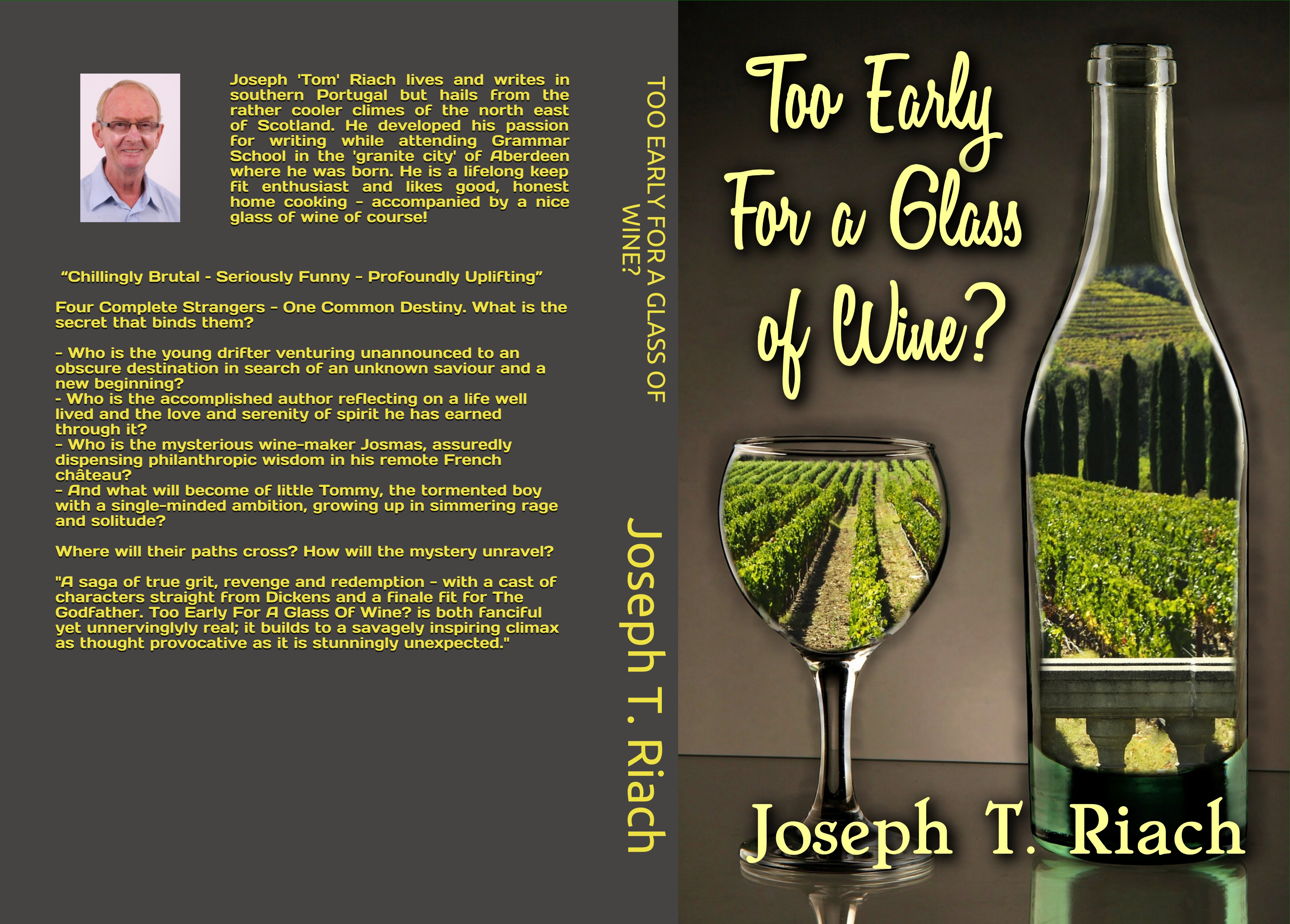 PACK IT IN or PACK THEM IN?  is an original copyright Tom Riach feature.
I hope you enjoyed this Summer Short and found it to be of value.
To learn more please visit me on my Author Page.
See you there! Regards, Tom.

© Copyright Joseph T.Riach 1998-present. All rights reserved.