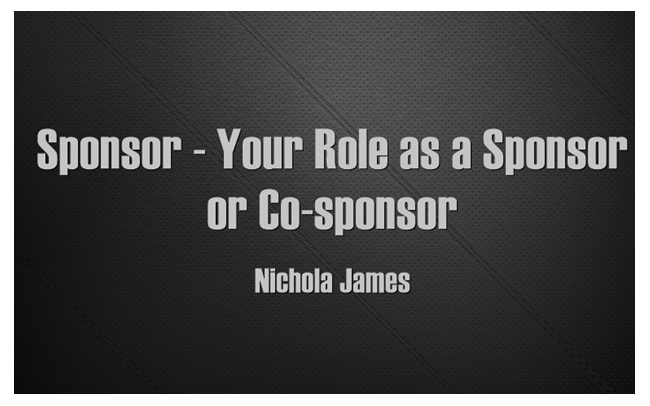 As a sponsor or co-sponsor, first you need to be a friend and a mentor. The company of your business opportunity provides the infrastructure for building your business. Your job as a sponsor or aco-sponsor, to the individuals who join your team, is to provide the personal one-on-one relationships that are so vital to your home-business success. 
More importantly, you have to provide the necessary help that is required by your new affiliates. Getting started is the hardest part of any journey, therefore, it is important that you are there to assist your new affiliates as they proceed through these initial steps. As a sponsor or a co-sponsor,  you have be there to provide friendly guidance and support in a timely manner.
Furthermore, the reason why many affiliates quit in their initial stage of their journey is that their sponsors ignored them. Please do not let this be the case with your new affiliates. However, you have to remember this fact. "No matter what you do, at least half of your affiliates will NOT become successful." This is not because of your leadership qualities; it is just the reality in life. Most people will never make the commitment required to succeed. This is another fact that you have to remember as a sponsor or co-sponsor. "All we can do is give people a track to run on. We cannot, however, drag them across the finish line! They have to want it."
Additionally, as a sponsor or co-sponsor, you need to support your affiliates and be there for them as much as possible especially at the beginning of their journey. However, you must not waste your time trying to get people to do something that they are not motivated to do. There must be a strong enough "why" to create the consistent actions that is necessary to achieve success.
Finally, when you identify your diamonds in the rough, make sure that they have everything they need. Connect with them because they are the ones that are motivated, are willing to learn, have  strong "whys", have set goals and have plans to achieve success. Therefore, you must support them with passion because someday they might make you rich. Ideally, as a sponsor,  don't focus on quantity, but rather, the key is to focus on quality affiliates. In short, work with the workers.