Helpful tips for a perfect beach wedding outfit
Another great post by guest author Diana Smith
What fabrics to choose
The beach weddings are typically less formalthan regular wedding. Furthermore, the climate effects are very influential. It is recommended to choose light fabrics, such as chiffon and silk, as the humid and windy weather on the beach can be a difficulty when using stiffer materials that make you feel uncomfortable. Long, breezy dresses or linen pants are good choices. You shouldn't forget a light jacket or coat because the beach can usually get quite cold in the evening.
Play with colors
As the wedding is informal, you are allowed to play with colors more – melon red, fuchsia and pastel shades give that special shine in a marriage ceremony. However, if the wedding is more formal you can choose to use bright colors only in shoes and accessories.
Forget the high heels
Heeled shoes are not the best choice for sand and sea, so flat shoes or sandals with very few glamorous details will help you on your way to the party. You should never wear flip flops to a wedding on the beach – yes, they are the most comfortable sand shoes, but not the most proper for a wedding.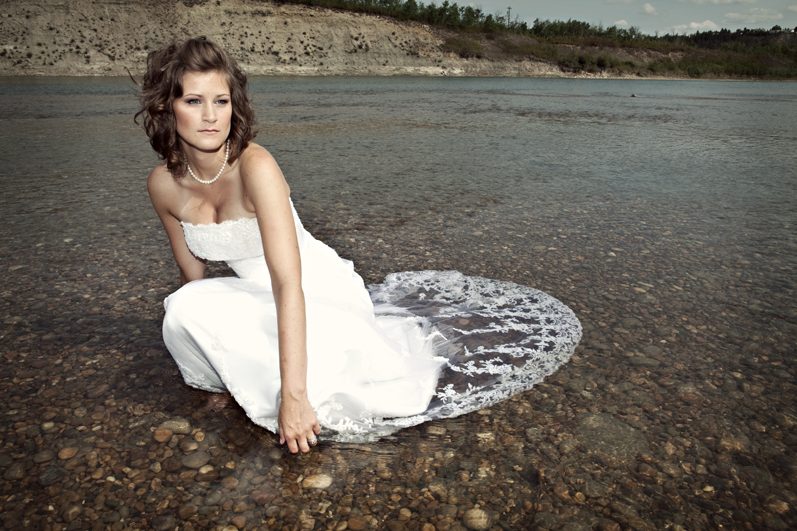 Perfect look
Like at all other weddings, dress length at beach wedding should depend on the time of the ceremony. If it is during the day you should go with short dress, and choose longer one for the evening. A delicate hat can be ideal if the party is in the morning to protect you from the sun. The same applies to sunglasses – they could be a perfect ally and a nice accessory for the finishing touch to your outfit.
What about accessories
It is advisable not to go overboard with the accessories. At the same time, you should opt for a small purse or clutch. Never choose a big bag because they are not need and will only get in the way of your fun.
Makeup
You shouldn't be too excessive with your looks, but you should take care of the details of the makeup and hairstyle for a beach wedding. For example, it is important that you use waterproof makeup, and soft colors if possible. Do not forget, if the wedding is during the day, wear sunscreen under makeup. It is essential to protect your skin while celebrating. Use natural and translucent powder so that the heat does not make your face shine more than the sun.
Hairstyle
Regarding the hairstyle, ideally, have your hair loose or tied in a half-do. Completely collected hair can sometimes seem too formal. The soft waves with an accessory like a headband or a beautiful hairpin are excellent.
Having fun near the sea is a common thing and wedding ceremonies held on a beach are always great. There are actually people who can organize everything on a beach and provide perfect settings and event designs such are outdoor wedding venues in Sydney, located by Long Reef headland and with breathtaking views of the northern beaches peninsula.
Just imagine the endless fine sand, the sound of the waves, the beautiful sunset and the skyline. Because of this romantic and inspiring panorama many couples decide that their perfect wedding place is near the sea. And when it comes to beach weddings and your style, pay attention to your convenience without neglecting elegance, and prepare to shine on this most important day for a family member or a friend.