Nichola James
IBO – Independent Business Owner/Helper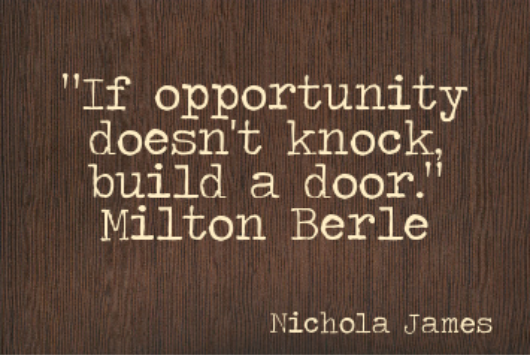 "If opportunity doesn't knock, build a door." Milton Berle
Many of us sit and wait for an opportunity to come knocking. Unfortunately, wishing for opportunities doesn't make them happen. You must look for opportunities in your life and strive to make something happen when you find them. There will always be opportunities for those who recognize and pursue them. The lucky ones are those who have taken more chances than average. "Opportunities are like sunrises. If you wait too long, you miss them." William Arthur Ward.
Recognizing opportunities when they show up, and creating your own opportunities, are the best ways to achieve success. If you give yourself the chance, you may find that there's an opportunity knocking on every door. However, don't wait for someone else to find opportunities for you. As the opening quote says, if opportunity doesn't knock, build a door and you knock on it. Learn to recognize opportunities and take action promptly. Be open to answering the call when new opportunities present themselves. "My favorite words are possibilities, opportunities and curiosity. I think if you are curious, you create opportunities, and then if you open the doors, you create possibilities." Mario Testino.
You need a strategy in order to seize opportunities, one that consistently demonstrates your passion for and commitment to your gift, natural ability or what you do well. These are three steps that you can take to create your own opportunities:
Step 1. Find Your Niche. You can make your own opportunities by identifying and pursuing a niche that is either underserved or an emerging trend. First you must recognize a need, and then use your creativity to come up with a way to serve that need. You may have an idea about how to do something better, faster, cheaper or at a higher quality.
Step 2. Become a Guru. Once you define your niche and it overlaps with what you do well and is passionate about, make it your business to know more than your peers about this area. Devise a strategy by which you can deepen your knowledge that will make you stand out from the crowd and get noticed.
Step 3. Give in order to receive. One of th best way to advance is to give. This is twice as powerful when the giving you engage in is directly related to your area of expertise. Find ways to give of your time by volunteering, or your knowledge by giving away materials you create. You will be contributing in a meaningful way to your specialty, and you will be noticed.
However, you need to create a plan for whatever goals you want to achieve. Stick with your plan and you will reap the rewards. When you commit yourself to something, life has a funny way of throwing opportunities in you direction.
Finally, you will need a few additional things to create your own opportunities such as,  the right mind-set, a spirit of adventure, self-knowledge – know your values, skills, strengths, weaknesses and passion, an idea and imagination, knowledge and skills in your area of expertise and self-promotion, initiative and drive, courage, ability to analyze opportunities and make sound decisions, resilience, and flexibility. Remember, "There are always door openings. And gradually, it accumulates. The opportunities open up in front of you." Buzz Aldrin.
Nichola James
IBO – Independent Business Owner/Helper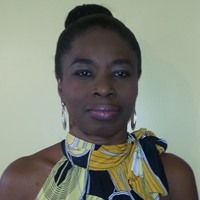 May your day be filled with joy, love, peace, laughter, harmony, happiness, wealth, good health and pleasant surprises always!  
We Give You Everything you Need!
Premium Hosting, Pro Autoresonder, Web Tools/Services, Advertising, Splash Pages, List Building, Track Your Results, Training, Cash

If you ever Dreamed of a Simple, Affordable and Lucrative System to Help You Achieve Success, We Have the Perfectly Simple and Realistic Formula for You!