"Sealed With A Kiss" is the 33rd in my 2022 series of articles based on my real life experiences, professional insights, personal views and fun stories.

My hope is that in them you find joy and inspiration.

 

 

SEALED WITH A KISS
     With the bulk of present day written communication taking place in electronic format by way of e-mails, social media messages and online forums, letters of the hand-written variety have become a rarity – and that's a shame. Receiving a personally scripted note delivered by mail through the post was, and remains, a far more personal and tactile experience. It is so much more intimate. Especially when the note is from a lover!
     The excitement of opening a billet-doux (love letter) is heightened by the fact that you can actually touch the letter and the words of endearment on it; just as you know that the writer has done. The sender may have even have kissed the seal of the envelope with rouged lips, thereby leaving their beautiful impression on it. The ultimate sign of affection - Sealed with a kiss!
     I have not, sad to say, received many such amourously adorned epistles in the recent past – none in fact – but I have sent them. Or rather, let me hasten to add, I have sent their metaphorical equivalent. By that I mean that I have posted out real hand-written letters to readers and 'fans' of my work in order to display my respect and gratitude for their support. No, I do not kiss the seal on the envelope, rouged lips or otherwise! But recipients appreciate my approach. It's personal and memorable. It gives me an advantage.
     In marketing to prospects and clients in this way I am -
          Showing I care
          Engaging my niche
          Using a unique approach
          Standing out from the crowd
     I concede that my present line of work, that of a professional author, lends itself well to this highly personal approach. Then again, I choose this tactic for that very reason. But I have employed variations of this same strategy in many diverse businesses over the years. It has worked superbly for me in every instance. It could work well for you too!
    You needn't employ the strategy exclusively but can integrate it as an element in your overall approach. This is what I do. I use e-mail messaging for the bulk of my general contacting and maintain a social media presence with articles such as this one.
     My e-mails however, are all personally written. I don't use automated systems.
     This is where I differ from the vast majority of internet and affiliate marketers who use automated systems and 'bots' to approach hundreds of people - and hopefully convert a handful into paying customers.
     My approach is contrarian for sure, but not contrarian just for the sake of it. Rather, it succeeds because of one simple and devastatingly powerful fact. It is this -
          I aim to turn just ten contacts into ten customers
          Not just into ten customers but into ten repeat customers
          And not just into ten repeat customers but into ten loyal and enthusiastic promoters of my enterprise
     - I succeed at every level.
     I succeed because I establish a close rapport with my audience. Through personal contact we get to know each other. Trust is established. This is where letter writing comes into its own. It is an intimate act where an auto-generated message is not. Writing to friends (that is what my clients are) is -
          Enjoyable, not work
          It takes minimal time
          It is intellectually stimulating
          It is spiritually rewarding
          It brings joy to everyone – and -
          It's seriously profitable!
     - What is there not to like?
     Okay, there may not be an actual 'smacker' from luscious pouted lips adorning the seal of the envelopes sent and received but, in every other way imaginable, each letter truly is – Sealed with a kiss! 
 I am Tom Riach. I live and write in the sunny south of Portugal.
Read more about how to communicate happily with all people, in all circumstances, in my highly acclaimed - 'The Simplest Sales Strategy'. Claim your special copy when you Click on the image below.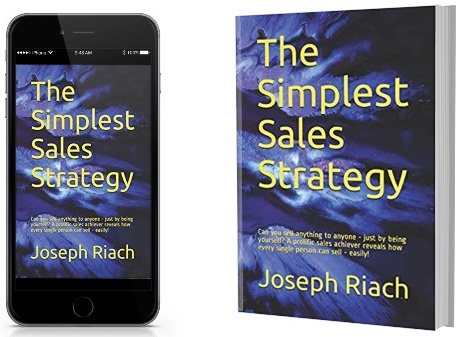 'SEALED WITH A KISS' is an original copyright Tom Riach feature.
I hope you enjoyed this presentation and found it to be of value.
To learn more please visit me on my Author Page.
See you there! Regards, Tom.

© Copyright Joseph T.Riach 1998-present. All rights reserved.