THE END OF SUMMER?
by Joseph Tom Riach
is the 12th and final article for light holiday reading in my 2020 series of  Tom's Summer Shorts. The tales are a blend of my real life experiences, professional insights, personal views and fun stories. My hope is that in them you find joy and inspiration.
     As late September's cooler breeze arrived, the tourists departed. I holdalled my flimsy summer wear and made to follow them. I lingered for a final beer at the tinshack beach bar which I had adopted as my author's study for several carefree weeks. It had proved ideal for my purpose. Young bartender Rui had kept me regularly refreshed as I scribbled in my 'private corner'.
    A budding artist, Rui had painted one wall of the howff with cartoons of the bar and of all the other 'watering holes' on the waterfront too. The work was that of impassioned youth, painted with the loving attention to detail of one who had clearly enjoyed the hospitality of every one of the bars featured! I could tell, as I had shared a similar love affair with drinking establishments during my formative years. Rui was eager to compare my story of mis-spent youth with his and to know how I found success. So I told him …
    "When Haggis, one of 'my gang' of friends left school, he went to work with the city council in the department which held the records of each and every business and residential property in the city and surrounds - and details of who occupied them. Haggis soon realised he had access to a list of every single pub, hostelry and drinking establishment in the region. Armed with this knowledge, 'our gang' set about the task of acquainting ourselves with, and downing ale, in every one of them. I'm ashamed to report that we succeeded rather admirably!
    I did not become so pickled in the process however as not to learn several valuable lessons from my youthful excesses. The first of these was to not spend all my money in pubs. The second was how to make money from the time I did spend in pubs! Yes, I turned my teenage tomfoolery into meaningful business. How did this come about? - simple.
   When I got to setting up my own business, I used Haggis's register of pubs and the names of their owners and landlords as a ready made target niche of potential customers. I surveyed them to find which goods and/or services best appealed to them, then supplied just that. I also recruited several of the bar owners as my agents. They promoted my services in their premises and to their customers, and they referred me to their clients. It was a perfect set up.
    So perfect in fact that I hired an assistant to research more of the public records pertaining to property in the town. Soon, I could identify the owners and/or tenants and occupiers of almost every city property. I subdivided these into niches according to area, type of property (business or residential), business practiced or trade/profession and circumstances of occupier etc. and then researched and defined which goods and services were most appropriate to which niche. Then, and only then, did I create an enterprise appropriate to the particular niches.
    By repeating this formula I created over time many successful businesses. So the lesson for you Rui is to do likewise. Turn your delinquent days passion - the beach, the bars, your art - into your adult years income. That way you will have fun and always make money too. I'll write down my formula for you just in case you forget!"
     I grabbed a paper napkin and scribbled the following :
    1. Have fun. 2. Turn your fun into income. 3. Use your local knowledge and public records to research your market – do your homework! 4. Tailor your offering to suit the potential buyers you have identified – not the other way around. 5. Involve your clients as partners too.
   I handed Rui the slip, downed my beer and we hugged the hug of a happy summer shared. Then I headed for home.
  It may have been the end of summer but the day marked the start of Rui's successful beach bar and art gallery chain of eateries. It also marked the completion of my first best-selling book. A plaque at 'my' table in what is today Rui's Bar reads - "This is where Joseph Tom Riach wrote 'Mastering The Art Of Making Money'. Read it and prosper. I did! - Rui." A nearby stand displays all my books for sale. So Rui and I are each in our own way practicing exactly what I preached!
    From our respective entrepreneurial positions we firmly agree that every day is opportunity, every day a new beginning. From that perspective, every day is sunny and fun-filled. The end of summer? … there's no such thing!
 I am Tom Riach. I live and write in the sunny south of Portugal. 
My latest novel is 'Too Early For A Glass Of Wine?' Claim your copy by clicking on the image below.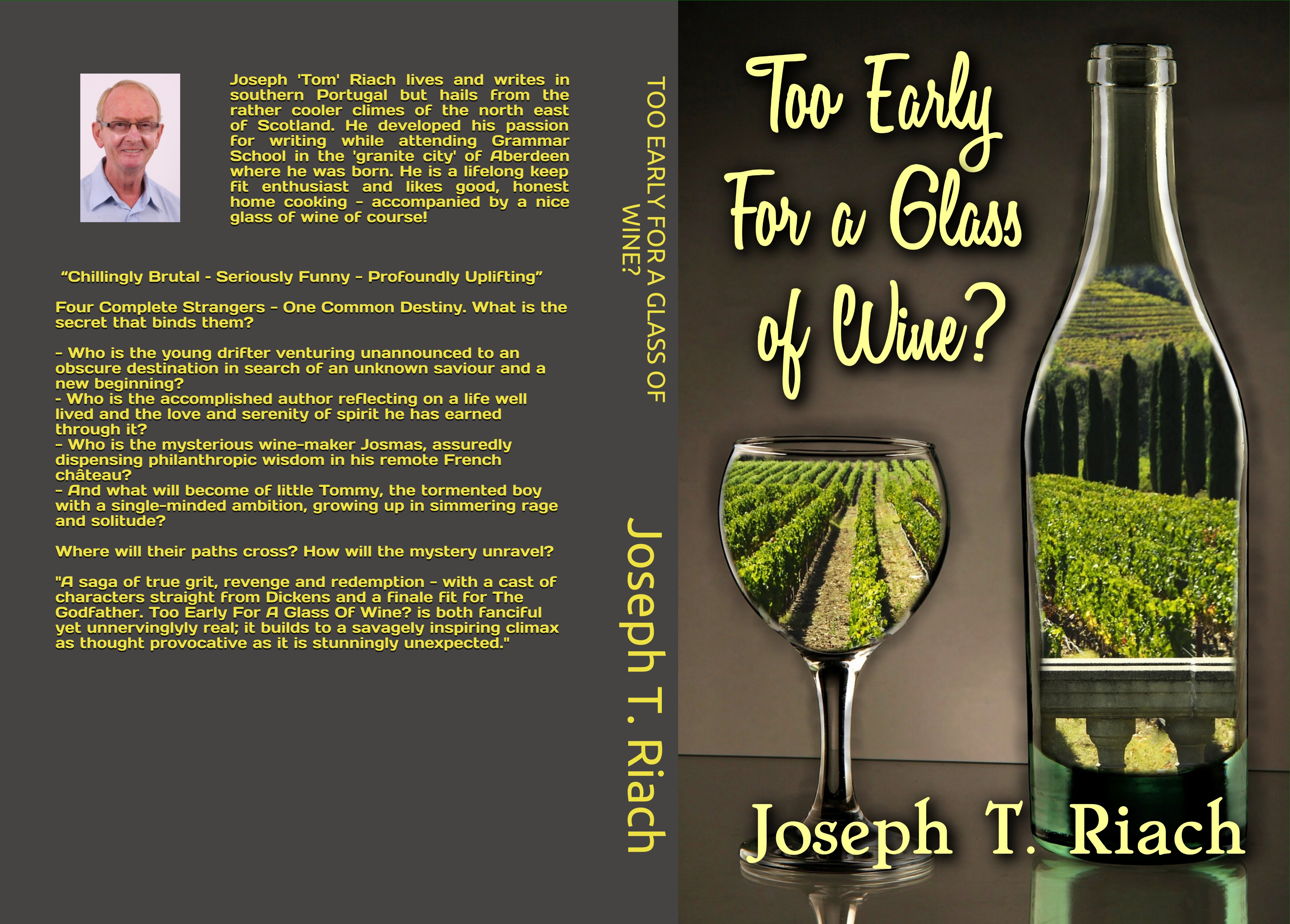 THE END OF SUMMER?  is an original copyright Tom Riach feature.
I hope you enjoyed this Summer Short and found it to be of value.
To learn more please visit me on my Author Page.
See you there! Regards, Tom.

© Copyright Joseph T.Riach 1998-present. All rights reserved.