"The Trouble With Experts" is the 16th in my 2022 series of articles based on my real life experiences, professional insights, personal views and fun stories. My hope is that in them you find joy and inspiration.
THE TROUBLE WITH EXPERTS
by Joseph Tom Riach
     The trouble with experts is that they are most often anything but expert!
     By example, I have benefitted from numerous commercial contracts where my input as an outside consultant should never have been needed had the inhouse executives been even remotely up to their jobs. So while I'm grateful for their incompetence, I'm certainly no fan of experts. I particularly dislike even to hear the word. The more so when it's used by someone to describe themselves! But even when attributed by one person to another, I seriously distrust the term.
     As a natural sceptic, my life experience has tended only to reinforce and validate my lack of faith in their ill-perceived wisdom. Their prognostications are often a masterclass in predictive ineptitude. Those anointed as 'experts' by the political and media class are no more accurate (or honest) in presenting views and forecasting long-term trends than the average man or woman in the street. The fact is that, while proficiency in a particular discipline may enhance the capacity of the specialist to explain the past, it can offer precious little guidance to the future.
     With this cautionary principle in mind, I find it advisable to remain circumspect in offering guidance to others. Even as one who has practiced my calling for decades and am familiar with the concepts and strategies of my subject. I may be a veteran of life and entrepreneurial adventures and have travelled the roads of victory and defeat extensively, but I still find it wise to avoid being labeled an expert. I do however, acknowledge the term 'specialist'.
     As such, my primary point of departure is to confess how little I know. I can make well educated guesses, of course, but cannot be one hundred percent sure of anything. I simply endeavour to apply my experience and success in life to simplify what others see as, or construct as, complex. My goal, your goal, is to seek more understanding. No more, no less. This can only be achieved through independent analysis and simple thinking.
     The lives of many are, at the best of times, theatres of confusion marked by a profusion of inaccuracies and propaganda. There is little clarity. The blizzard of social media commentary is especially distorting. 'Transgressors' are ridiculed, threatened and cancelled when their views cut against the grain of a plot line with a favoured political hue and a distorted narrative of right and wrong. Independent thinking outside the box, working things out for yourself, is neither encouraged nor rewarded. You must follow the 'experts' (the so-called 'science' too) or be damned.
     So, exercising an independent mindset takes courage! It also takes dilligence and research – lots of it. Don't rely on outside 'experts'. Work to be your own specialist. Find sources of opposing views. That way you can size up the respective arguments as well as compare what they state as facts. By the way, don't trust any fact-checkers; none of them. They themselves are corrupt and biased. Look for good independent sources of information; those with integrity and not beholden financially to any third party, individual or entity of any description. Rare, but they do exist.
     For those of you prepared to sacrifice popularity, follow your own instincts, let your imagination flourish and arrive at conclusions which often run contrary to conventional wisdom, the payback is monumental. Yes, defying the mainstream, the herd and the 'experts' is seriously rewarding. The reward is called intellectual independence. You don't need any expert to tell you that!
 I am Tom Riach. I live and write in the sunny south of Portugal. 
Read any of my best-selling books and novels by clicking on the image below.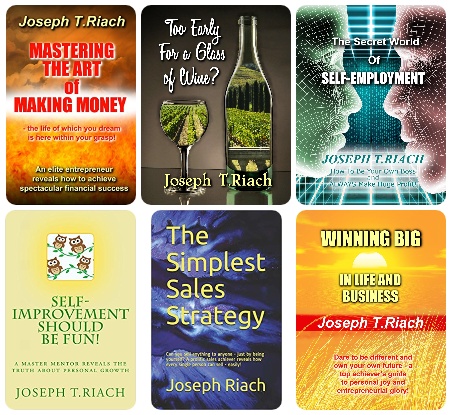 THE TROUBLE WITH EXPERTS  is an original copyright Tom Riach feature.
I hope you enjoyed this short article and found it to be of value.
To learn more please visit me on my Author Page.
See you there! Regards, Tom.

© Copyright Joseph T.Riach 1998-present. All rights reserved.