"Ask A Silly Question" is the twenty-ninth in my 2022 series of articles based on my real life experiences, professional insights, personal views and fun stories.

My hope is that in them you find joy and inspiration.

 

 

ASK A SILLY QUESTION 
     Was there a pupil in your form at school who the rest of the class laughed at for regularly asking what they perceived to be silly questions? That pupil was me.
     Then in later years at college, night school or adult education was there also that one inevitable student capable of reducing the class to hysterical laughter with what were apparently equally stupid questions? That was me too.
     And had you been a member of my profession in my early years in its ranks, or the proverbial fly on the wall, then there in the front row at conferences, seminars and training schools you'd likewise find me firing off my salvo of questions weird and bizarre, to the perplexion of the speakers and the entertainment of all.
     Being renowned for my, let's call it 'lateral thinking inquisitiveness', had its advantages. It meant that I could show at the last minute to these events because my front row seat was kept for me by those intent on ensuring a good laugh! That, and the fact that venues tend to fill from the back rows forward - why do attendees shy from being in front, near the action? - meant that I was always best placed to easily interrupt presentations and harangue speakers with my apparently crazy questions.
     But as my 'notoriety' spread, over time so did its nature. I had you see grown to become one of the most prolific producers of new business in the industry. So, whereas previously my questions had been greeted with guffaws and the rolling of eyes, now when I interrupted and rose to speak an attentive silence descended. Delegates leaned forward to better hear what was being queried. The mood had become one of - 'what rich wisdom is in the question'?
     Without being fully aware of it, my audiences had themselves become, by association, askers of silly questions! Somewhere in the collective conscious had been seeded the realisation that being bright, educated, intellectual even, wasn't bringing wealth or success. But that an enquiring mind and a desire to know, even to the point of appearing dopey to your peers, was what produced results.
     Inevitably therefore, I found in time a constant stream of inquirers seeking me out, each one primed with the same hopeless question of the inspirationally lame – "What is the secret of your success?"
     Of course I had a ready answer - "Ask a silly question!"  
 I am Tom Riach. I live and write in the sunny south of Portugal.
* SPECIAL OFFER! - Receive a FREE E-version of my 'Yes You Can!' book! Just CLICK HERE. 
Or go to my Amazon store for Paperback or Kindle copies of - 'Yes You Can!' - when you Click on the image below.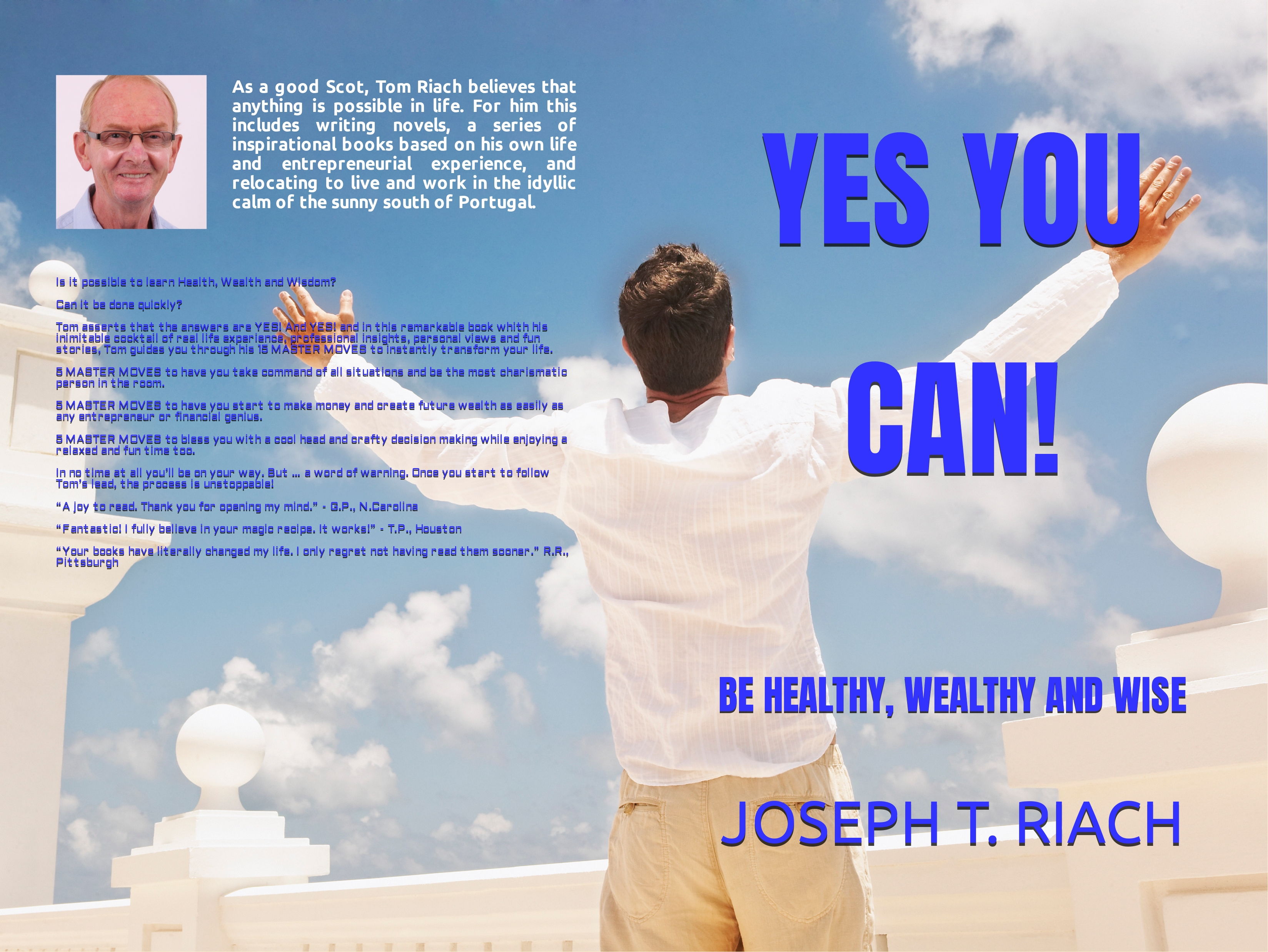 'ASK A SILLY QUESTION' is an original copyright Tom Riach feature.
I hope you enjoyed this presentation and found it to be of value.
To learn more please visit me on my Author Page.
See you there! Regards, Tom.

© Copyright Joseph T.Riach 1998-present. All rights reserved.