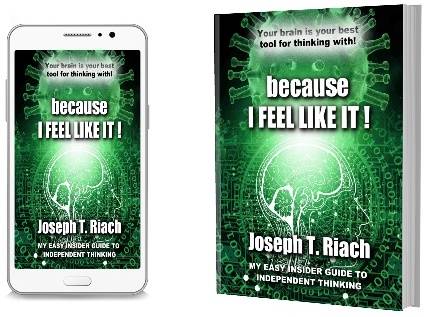 BECAUSE I FEEL LIKE IT!
 Joseph Tom Riach
DOES everyone have independent thoughts?
ARE some people more independence minded than others?
IS there a secret to knowing your own mind and standing up for your rights and beliefs?
I say - 'YES', 'YES' and 'YES'!
MY EXTRAORDINARY STORY OF LIFE AS 'JUST AN ORDINARY GUY' WHO HAS PROFITED FROM A LIFETIME OF BEING MY OWN MAN DESCRIBES HOW IT'S DONE WITH SIMPLE AND QUICK WAYS TO PRACTICALLY TRANSFORM YOURSELF FROM BEING ONE OF THE CROWD INTO AN INDEPENDENTLY ASSERTIVE HERO BOSSING YOUR OWN THOUGHTS AND OPINIONS.

Why did I write this book? Why should you read it?

As an entrepreneur I have lived a lifetime of independent self-determination, of making my own way in the world, of being my own boss. I live a life free of intellectual or physical interference, propaganda and mindless chatter. Very few possess similar experience.

'Because I Feel Like It!' is my account of how I tackle the challenge of being self-reliant, of being determinedly independent in thought and action. With professional insights, personal views and fun stories, I show how my observations, real life experiences and conclusions will help you to do likewise.
Whether you are already an independent thinker, aspire to become one or if you are simply curious about what makes people of an independent mindset tick, then his story will at least fascinate you and at best drive you to be the independent power of your dreams. The sort of person others look up to and respect.
Be prepared for surprises. My promptings are not what you might expect. Then again, thinking beyond the confines of conventional wisdom is the very essence of an independent mind at work!
 I am Tom Riach. I live and write in the sunny south of Portugal. 
Claim your special copy of - 'Because I Feel Like It!' - at a massive 50% off, introductory half-price offer of just $9.99 when you Click on the image below. My story is guaranteed to fire up your independent mind like never before!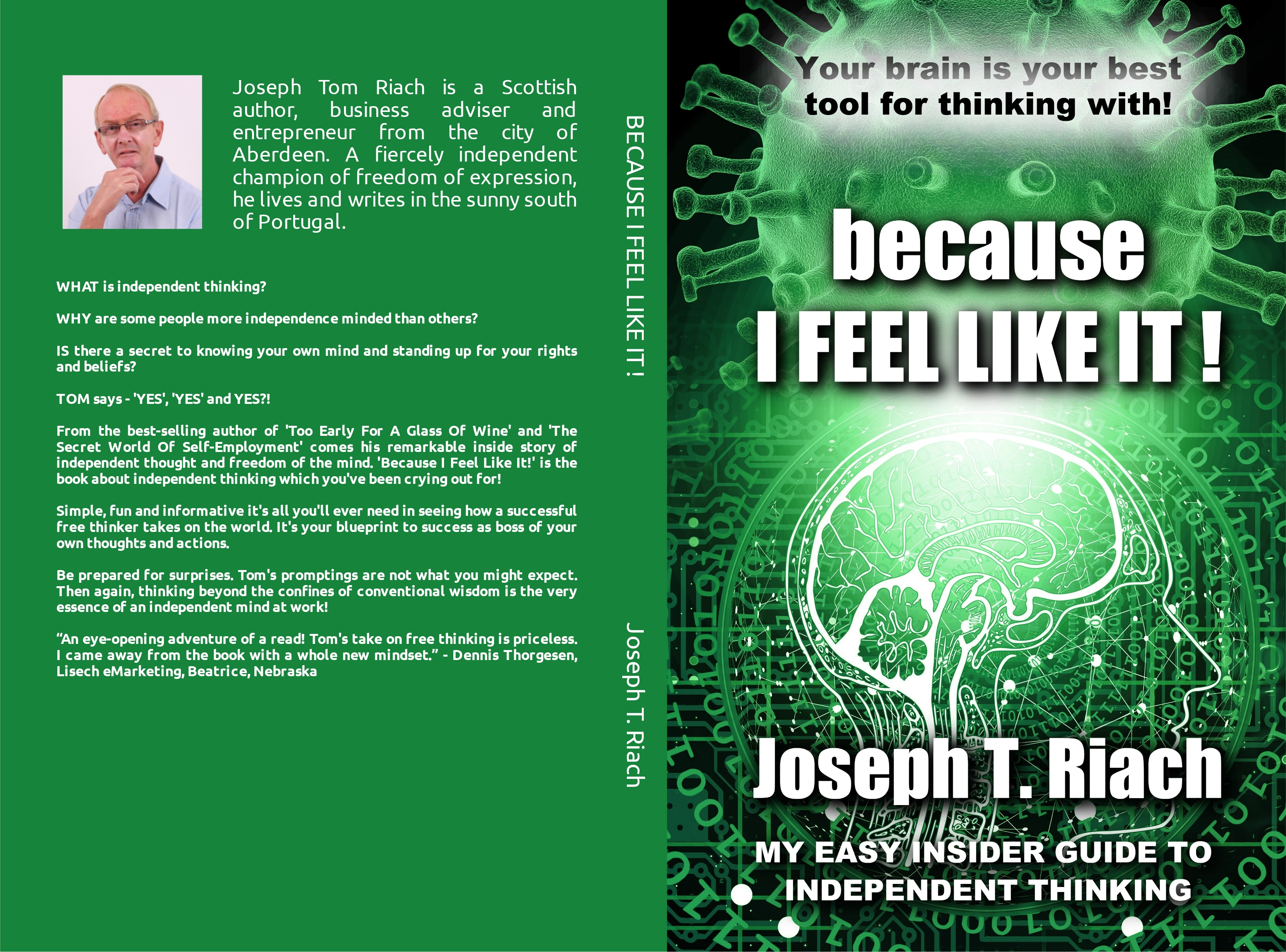 BECAUSE I FEEL LIKE IT! is an original copyright Tom Riach feature.
I hope you enjoyed this presentation and found it to be of value.
To learn more please visit me on my Author Page.
See you there! Regards, Tom.

© Copyright Joseph T.Riach 1998-present. All rights reserved.