"Getting To Where You Are Going" is the 21st in my 2022 series of articles based on my real life experiences, professional insights, personal views and fun stories.

My hope is that in them you find joy and inspiration.

 

 

GETTING TO WHERE YOU ARE GOING 
          "I always get to where I am going by leaving behind where I have been." - JTR
       I had been standing at the bus stop for what seemed like an eternity. It wasn't that there was any lack of busses arriving. A steady stream came and then left. All en-route to interesting, and some not so interesting, places. But none were headed for the destination which I had chosen; the location on which I had set my heart, where I dreamed of being.
     I could have hopped on to any one of those busses which did pass through. Each one provided an opportunity to move on from where I was stationed and take me to somewhere new. And just going 'somewhere new' was certainly tempting. My ambition, after all, was to change my current circumstance for one with different horizons; a vista which would satisfy my growing ambition and sense of adventure.
     But an opportunity is an opportunity and, with each passing bus, I was passing up on an option to pursue the change I sought. Any bus may not take me to my destination of preference but it would move me on from where I stood. That last factor was, I realised, the most important. Stagnation is self-fulfilling. So I changed tack.
     I resolved to get on to the next bus that arrived regardless of where it was going to - but with one proviso. It could not be one going back in the direction from which I had come. Notwithstanding that, I reckoned that any destination which went some way to getting me towards my ideal location was a good move; a stepping stone to my future. From there I could then repeat the strategy, progressing in stages until I arrived where I most longed to be.
     Thus decided, I looked forward with renewed enthusiasm for the next bus to arrive.
     When it did, I leaped on board. Soon I was on my way. On my way where? I knew not. It didn't matter. Because, as I looked ahead at the unfolding view of the uncharted territory into which I was heading, I realised three things.
     The first was that my destination, wherever it might be, was a surprise and a challenge in waiting. The arrival of the bus there would be both a thrilling climax to my journey and the opening of a new and exciting chapter in my life.
     The second thing was that I determined to enjoy the journey. I sat back, relaxed and took in everything and everybody around me. Soon I was engaged with new people and their lives, hopes and experiences as well as the changing countryside around us. I was already absorbing an expanded environment. I was living the moment.
     But third and last, and most explosively, the fact hit me that the single most critical element in my day had been the moment of stepping from the sidewalk at the bus stop and on to the bus. As the bus pulled away from there with me on board, that was the point of change, my point of no return.
     The days, weeks and months of prevarication, of thinking about change but doing nothing to enforce change; the hours waiting for the arrival of the bus to my perfect location - all were blown away in that one simple act of stepping on to the bus. It was the instant I came to learn what I now know :
          Having goals (destinations) is essential to achieving outcomes
          but
         Outcomes are the result of actions
         and
         Actions must be instigated.
     The hardest actions to take are based on tough decisions. Decisions which may necessitate moving on from familiar places, situations and relationships. Leaving these behind, rather than focusing on a particular destination, is what gets things moving. It's the moment that you 'step on to the bus' - any bus - that matters. After that, the rest is 'easy'.
     I myself love new challenges. Arriving at hitherto unexplored destinations is thrilling - but - I always get to where I am going by leaving behind where I have been! Knowing that is the key to getting to where you are going. 
 I am Tom Riach. I live and write in the sunny south of Portugal.
* SPECIAL OFFER! - Receive a FREE E-version of my 'Yes You Can!' book! Just CLICK HERE. 
Or go to my Amazon store for Paperback or Kindle copies of - 'Yes You Can!' - when you Click on the image below.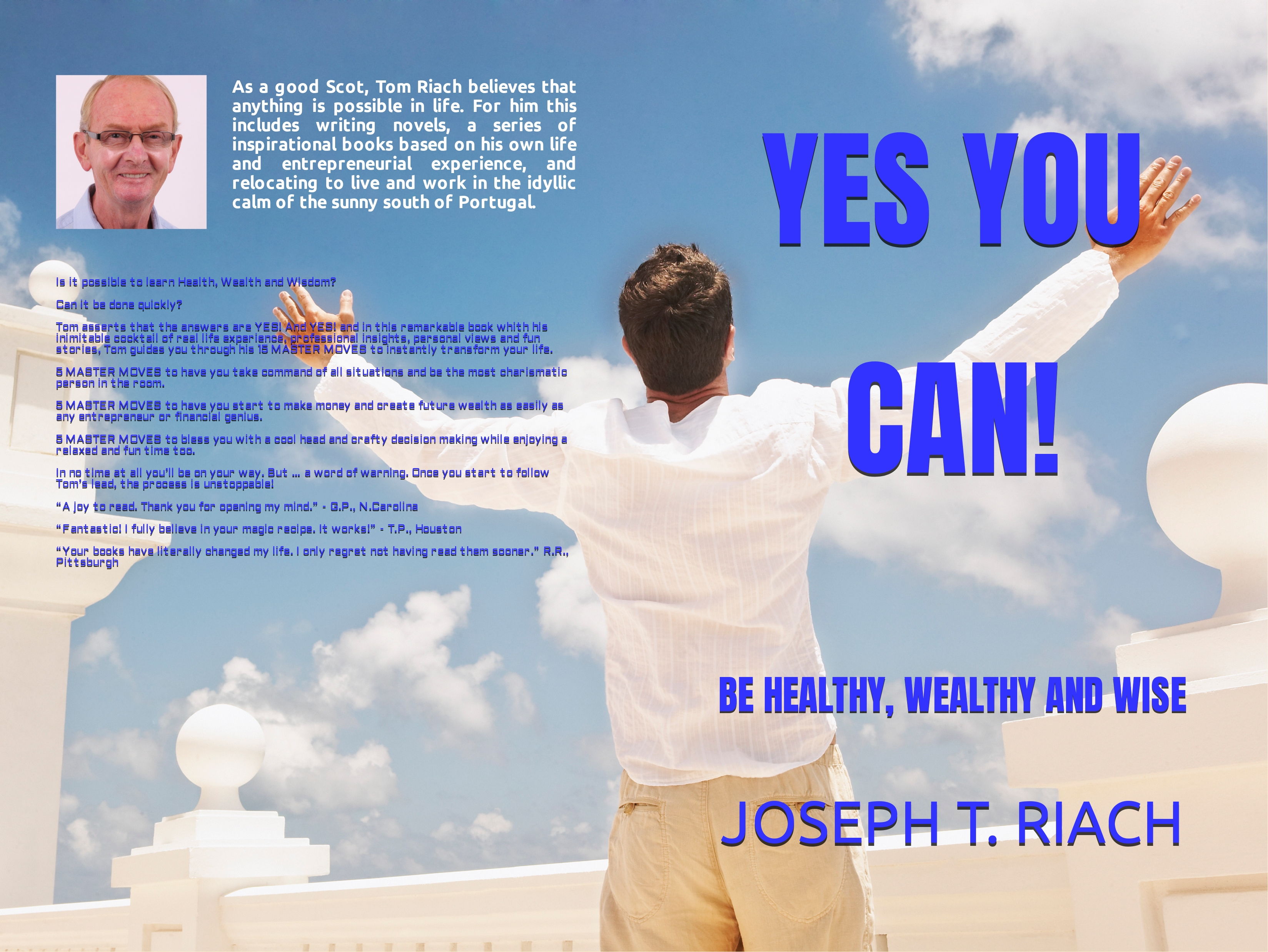 'GETTING TO WHERE YOU ARE GOING' is an original copyright Tom Riach feature.
I hope you enjoyed this presentation and found it to be of value.
To learn more please visit me on my Author Page.
See you there! Regards, Tom.

© Copyright Joseph T.Riach 1998-present. All rights reserved.