"Where's Your Spirit?" is the fourteenth in my 2022 series of articles based on my real life experiences, professional insights, personal views and fun stories. My hope is that in them you find joy and inspiration.
WHERE'S YOUR SPIRIT?
by Joseph Tom Riach
     Where's your spirit? What is it? Let's describe it this way -
     My ethos is to do good and have fun. My purpose is to be happy and useful. Joy, purpose and meaning are what matter in life. The most effective way to achieve these and create a better world for yourself and everyone is through kindness and compassion. You need to cultivate awareness of, and responsibility for, your profound self in order to open up a world of love and joyful living. When you act with selflessness and generosity you are engaging your inner being, your spirit.
     So far, so good, but spiritual life may seem a rather radical choice in present day society. Current cultural norms entail the constant outsourcing of beliefs to things which have no higher value. People align with 'false gods' and search in deserted places for greater meaning and purpose. Looking externally and materialistically to create happiness or generate value is the key to neither spiritual awareness nor a happy life.
     Everything you want is within you. Everything you seek is connected to your conscience which operates both consciously and through your inner subconscious. So it operates semi-automatically; meaning you can access it - provided you choose to. Doing so is a good move. Getting to know your own spirit is the secret to living joyfully in the modern world.
     Spirituality is your awareness of both self and of the intangible. Whether you are aware of it or not, there is a spiritual dimension to everything and everybody. It affects your entire act of living - relationships, career, health - and it impacts on how you see yourself in relation to everyone and everything. Spiritual principles in your life are enriching, magical and fun. Don't overlook the fact that laughter is a strong part of it. Life is your playground when you employ a wonderful sense of humour.
     You can find beauty, or excuses, in anything. It's better by far to choose beauty. Gratitude, forgiveness and self-acceptance are the most basic ways for you to actively generate a purposeful direction in your life. With it will come fresh perspectives and rewarding experiences. When you practice kindness, compassion and a forgiving nature you improve your mindset, enrich your inner being and empower yourself. These positive attitudes will transform your life. Personal development is not something to be sought in isolation from your spiritual self. Both are part of the one. The two go hand in hand.
     Remember that life is a boundless mystery filled with wonder. Be curious. It is good to ask questions. You don't need to know all the answers. Let go of the idea that you need to be perfect. That is a cruel illusion. Rather create the change needed in your life by becoming the change. That is the winning formula.
     Make it your number one priority to discover where's your spirit. Embrace it, cherish it. You'll be glad you did.
 I am Tom Riach. I live and write in the sunny south of Portugal. 
Claim your special copy of my best-selling 'The Road To Joyful Living' by clicking on the image below.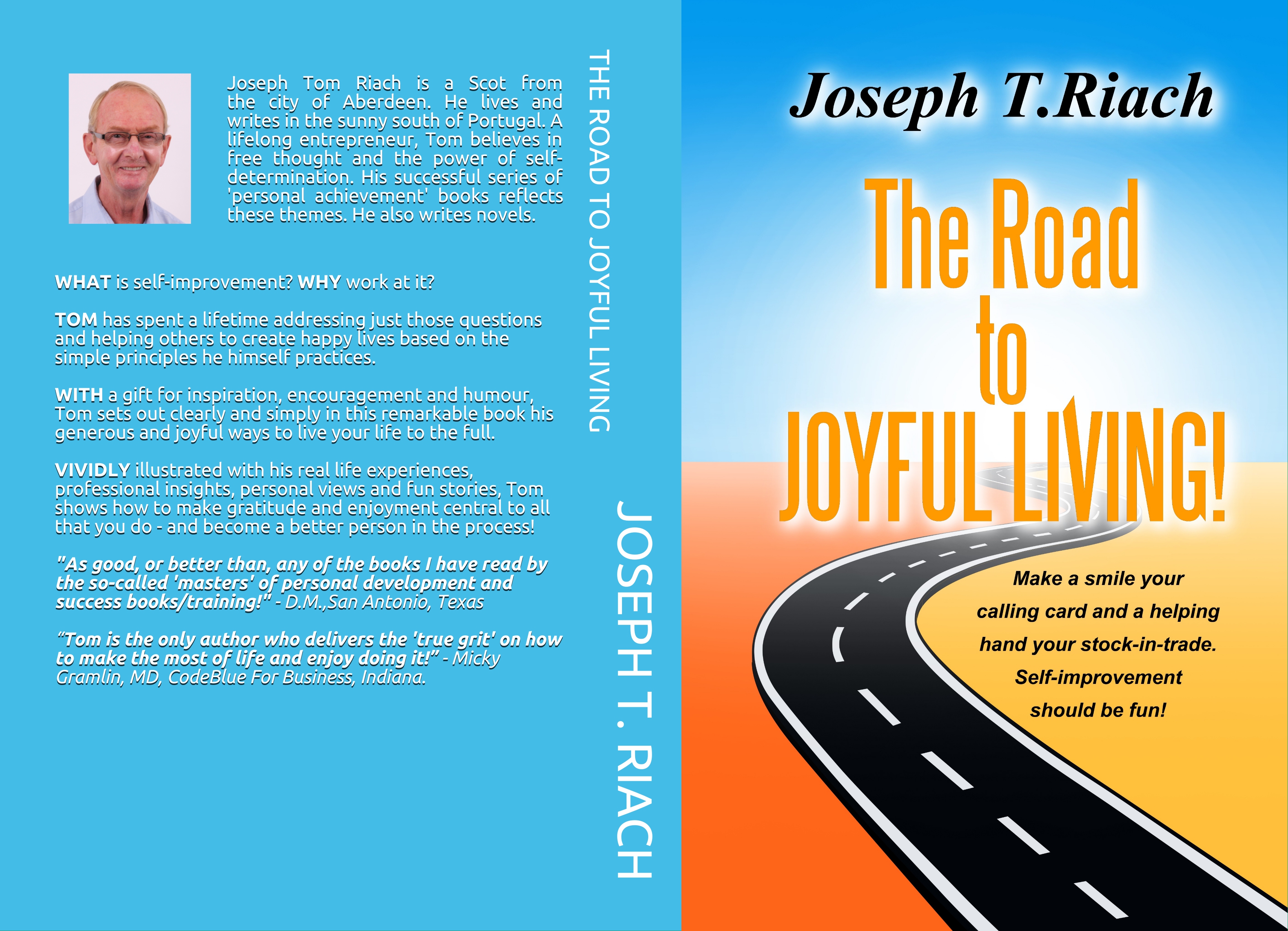 WHERE'S YOUR SPIRIT?  is an original copyright Tom Riach feature.
I hope you enjoyed this short article and found it to be of value.
To learn more please visit me on my Author Page.
See you there! Regards, Tom.

© Copyright Joseph T.Riach 1998-present. All rights reserved.