"Where There's A Will" is the thirty-first in my 2022 series of articles based on my real life experiences, professional insights, personal views and fun stories.

My hope is that in them you find joy and inspiration.

 

 

WHERE THERE'S A WILL 
     Most people are familiar with the - "Where there's a will, there's a way" - motto. Most people believe it to be true too. They acknowledge that solutions to situations in life or business are most likely to be found when driven by an absolute need. They know that desire, drive and determination, and sometimes desperation, are the necessary catalysts to human change, improvement or invention.
     But where pressing motivation is absent then things are viewed less urgently. In that case, ideas and tasks that could be attended to are less likely to receive attention. They get shelved or put off for 'another day'. Where there's no will, there's no drive to find a way!
     Top entrepreneurs and achievers in all areas of life become successful by having both the will and finding the way to reach their objectives. Their desire to succeed trumps all other considerations. Many start with no idea of how to get to where they want to go - the 'way'. But they have passion and drive – that's the 'will'. With that in place the 'way' soon reveals itself.
     Will Rogers, the iconic American vaudeville performer, fim star, writer, broadcaster and humourist-philosopher, was 'Will' by name and 'will' by nature. He extolled the virtue of hard work and became recognised as the epitomy of the self-made man.
     Born a citizen of the Cherokee nation in Oklahoma, he grew into adult life with scant idea as to a future trade or profession. He dropped out of school after tenth grade, did trick-roping and riding in rodeos and went to work as a rancher in Argentina and then South Africa, then as a circus performer in Australia.
     On a trip to New York in 1905, Rogers was at a vaudeville-come-rodeo show in Madison Square Garden when a wild steer broke out of the arena and began to climb into the viewing stands. Rogers roped the steer to the delight of the crowd. The feat got front page attention from the newspapers, giving him valuable publicity and an audience eager to see more. Will's "way" had found him!
     And your 'way' will find you – provided you have the 'will'.
     As a young man, there were many who said of me that - 'Tom has lost his way'. But, just like Will Rogers, I hadn't lost my way – I just had yet to find it! I did however possess limitless determination. And sure enough I soon found my way. Or rather, true to form, it found me.
     The bar was heaving with drinkers. I pushed my way to the front of the hubbub to call for a beer. Will, the landlord, struggling short-staffed, shouted over to me, "Free drinks if you help me out Tommy!" I crossed to the other side of the bar and was soon pulling pints for the mob.
     A hectic couple of hours later and relaxing after closing time with my well-earned beer, Will revealed that he had another small business he was in the process of disposing of. Would I like to take it on? Two short weeks later I became the proud owner of my first business. It didn't cost me a penny.*
     So I'm the living proof. Where there's a will - or a Will, there's a way! Never forget it.
 I am Tom Riach. I live and write in the sunny south of Portugal.
* Read about my First Business, and many others, in 'Winning Big In Life And Business'. Claim your special copy when you Click on the image below.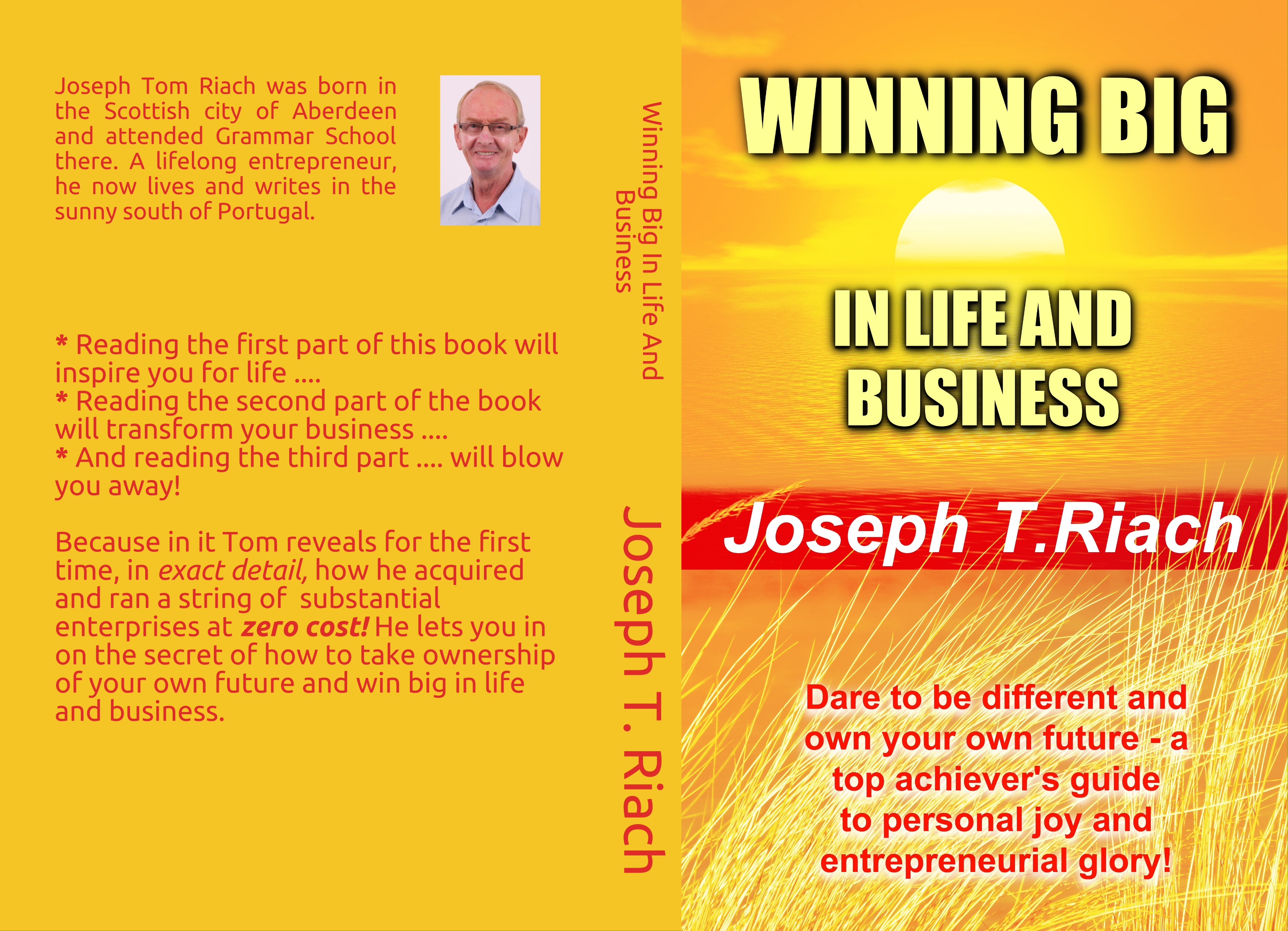 'WHERE THERE'S A WILL' is an original copyright Tom Riach feature.
I hope you enjoyed this presentation and found it to be of value.
To learn more please visit me on my Author Page.
See you there! Regards, Tom.

© Copyright Joseph T.Riach 1998-present. All rights reserved.